The Neubrandenburg Art Collection
The Neubrandenburg Art Collection is one of four art museums in Mecklenburg Western-Pomerania. It was newly founded in 1982 as municipal institution and got a temporary abode in the half-timbered house Am Pferdemarkt 1. They started to develop a collection on the basis of exclusive artistic criteria which contains today about 6,000 artworks of painting, graphic arts and sculptures.
On 13 April 2003 the Neubrandenburg Art Collection opened its new residence in Große Wollweberstraße 24. The distinctive 18 century timber-house in the centre of Neubrandenburg has been reconstructed and enlarged with a modern museum part.
On 400 m² exhibition space you can find two different areas: one for special exhibitions and the other shows a permanent exhibition for a longer period. Herewith the museum has the possibility to order the collection in different contexts, to illustrate trends and first of all to make the exhibition transparent for the visitor.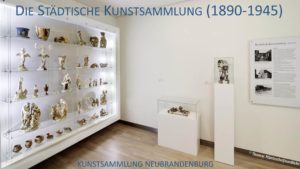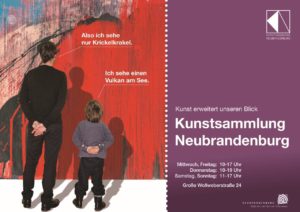 For further information please visit:
www.kunstsammlung-neubrandenburg.de
opening hours:
| | |
| --- | --- |
| Monday / Tuesday: | closed |
| Wednesday / Friday: | 10:00 – 17:00 |
| Thursday: | 10:00 – 19:00 |
| Saturday / Sunday: | 11:00 – 17:00 |
Touristinfo Neubrandenburg
Opening times
Monday to Friday: 10:00 – 19:00
Saturday: 10:00 – 16:00
Please note our special opening times during city-centre events