Culture Park in Neubrandenburg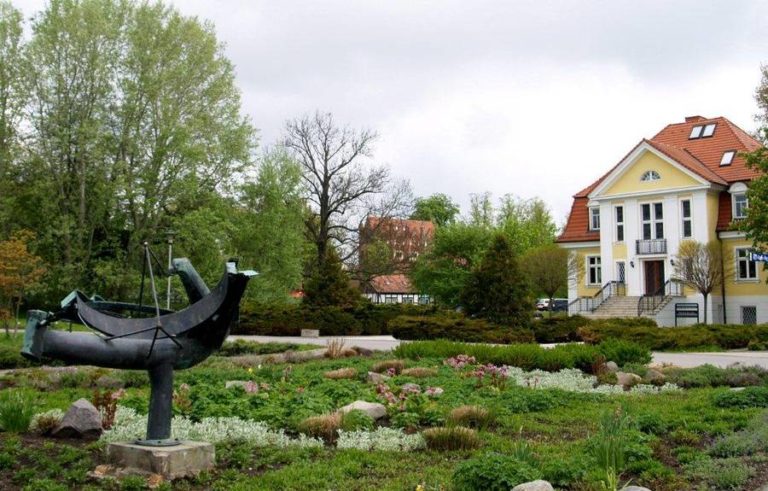 As favoured local recreation area the culture park connects the city centre with the Lake Tollensesee. It is the heart of the leisure landscape "Tollensebecken". The natural conditions were respected from the beginning and green spaces are mixed with trees and bushes.
Visitors will discover for example themed gardens, playgrounds, boat rentals, vivarium, dining facilities and arts.
In the Middle Ages there has been the Werderbruch on the northern lakeside, a swampy area which offered a natural protection for the town. In the 19 century the first plantings took place, and in 1904 the people built a promenade to the lake.  The cultivation was continued wherefore the people also used the debris from the Second World War. The debris came from the city, which was set on fire on 29 April 1945 by the Soviet artillery and thereby destroyed by 84 %. From 1969 to 1975 the area between the lake and The Stargard Gate was revived as Culture Park with statues from regional artists. The Culture Park is a public park in the garb of a landscape garden and became a monument in 1981. It offers various free time facilities and is a place for attractive events like concerts, circus, Pentecost and Easter parties and many more.
Discover the Culture Park as destination directly located in front of the brick gothic gates of Neubrandenburg. Experience at every season the fantastic views on the lake and enjoy the diversified nature. Relax with fun, sport and culture – this park with its incomparable lake view offers something for everybody.
Touristinfo Neubrandenburg
Opening times
Monday to Friday: 10:00 – 19:00
Saturday: 10:00 – 16:00
Please note our special opening times during city-centre events