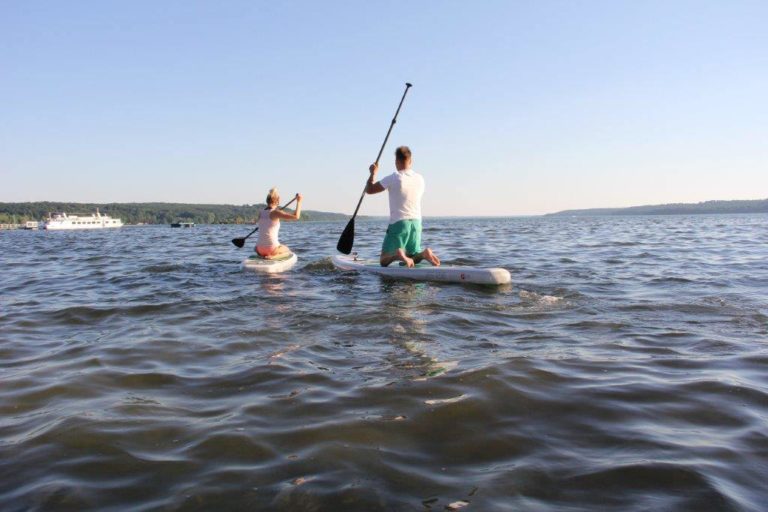 Canoe tour on Lake Tollensesee
Only a stone's throw away from the town you find the 11 kilometres long and up to 32 metres deep Lake Tollensesee which offers all imaginable pleasures on the water and underwater. The size and position of the lake offer best conditions for sports especially for sailors, surfers, canoeists and divers.
Circuit Lake Tollensesee: 25 km – day trip
The Lake Tollensesee is one of the most beautiful waters in the Mecklenburg Lake District. It is surrounded by wooded hills, sandy beaches and an almost closed reed zone where you can meet water birds like great crested grebes, coots or grey gooses.
Canoe tour on the river Tollense
Today the river Tollense is only navigable by canoe and kayak. It flows with mostly weak current over Altentreptow to Demmin and flows there into the river Peene. Over long distances the Tollense curls through the protected landscape of the Tollense lowland area where you come across untouched nature.
Neubrandenburg – Altentreptow (length: 20 kilometres)
Attention – note for the nature protection:
The peat cuttings are a protected biotope with a low water depth. Because of nature protection and safety reasons the passing over is only allowed in the marked routes.
Further information: www.mecklenburgische-seenplatte.de
Touristinfo Neubrandenburg
accommodation office
counselling and sale of souvenirs
placing of guided journeys and city tours
information and brochures about the city and environment
information and offers for an accessible holiday
maps for cycling and hiking
ticketing and many others
Book your journey and your personal adventures with us. We will be happy to advice you!