Riding Spend your holiday or pastime in a special way - Riding in and around Neubrandenburg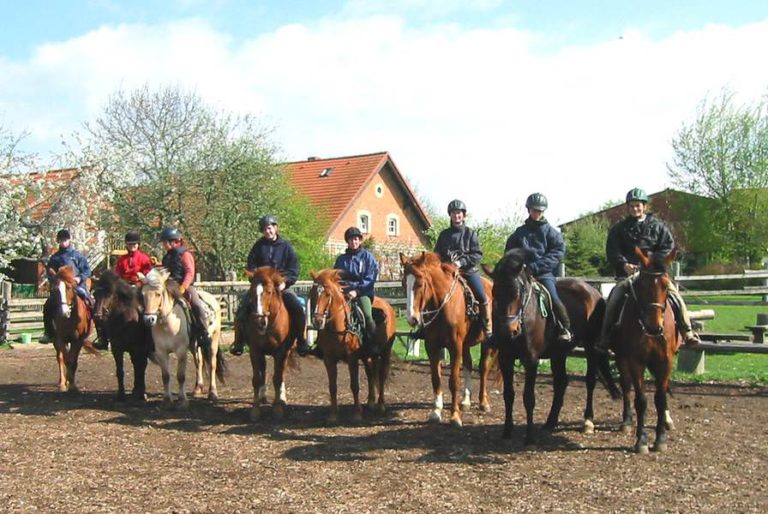 "Riding is more than sport, it is emotion and trust, riding is an attitude towards life full of fascination, passion and desire." (Anonymous)
Forests with sparkling lakes, wide meadows and fields, golden canola and crimson poppy, rank sallow thorn and shiny gorse, dreamy villages and charming towns – all these things make up the charm of the Mecklenburg Lake District. Here you can relax and forget the bustle and the everyday stress. Every season has its special charm.
Riding around the Lake Tollensesee
The nature protection area Tollense valley has a size of 10,600 hectare and offers a fascinating landscape of ground and end moraine. Enjoy the beautiful view over the valley with its varied landscape. Experience the silence that comes from the shores of the Lake Tollensesee. Here you find peace, relaxation and undisturbed rest. You can also go on a discovery tour and get to know the wildlife as well as the cultural historical places of the region.
Even though it is stipulated in the forest law of Mecklenburg Western-Pomerania that riding in the forest is only allowed on signed routes it is not forbidden to use the country roads and public streets.
But a taboo is to use the unmade parts of the cycling tour round Lake Tollensesee for riding. Therefore it is sometimes necessary to make a detour in interest of nature protection.
---
Riding schools and riding clubs
Some of the riding schools which are located in and around Neubrandenburg, you find here on or website. They are situated in the idyllic landscape with a varied wildlife and offer beside the riding many possibilities of active recreation.
These riding schools and clubs have a large offer for all ages:
Reitsportverein "Vier Tore" Neubrandenburg e. V.
Robert-Koch-Str. 16
17036 Neubrandenburg
Tel.: 0395 7071433
Reiterhof & Pension Hoffschildt
Mühlenstr. 11
17039 Zirzow
Tel.: 0395 5823349
Landhof "Zur Meierei"
Meierei 5
17217 Mallin
Tel.: 03962 210020
Reiterhof Edwin Gohrs
Teschendorfer Chaussee25
17094 Burg Stargard
Tel.: 039603 22488
Haflingerhof Anne Hänisch
Papiermühlenweg 12
17094 Burg Stargard
Tel.: 039603 20523
Freizeitzentrum Reitverein "Tollense" Groß Nemerow e. V.
Backofenstr. 3
17094 Groß Nemerow
Tel.: 039605 20381
Reitanlage "Pappelhof Staven"
Dorfstr. 20
17039 Staven
Tel.: 039608 20737
Kutschfahrten zu verschiedenen Anlässen "Pferdeland Grüner Baum"
Grüner Baum 8
17235 Neustrelitz
Tel.: 0172 1875668
Tel.: 0152 51968966
More information and details: www.reiten-in-mv.de
Touristinfo Neubrandenburg
accommodation office
counselling and sale of souvenirs
placing of guided journeys and city tours
information and brochures about the city and environment
information and offers for an accessible holiday
maps for cycling and hiking
ticketing and many others
Book your journey and your personal adventures with us. We will be happy to advice you!