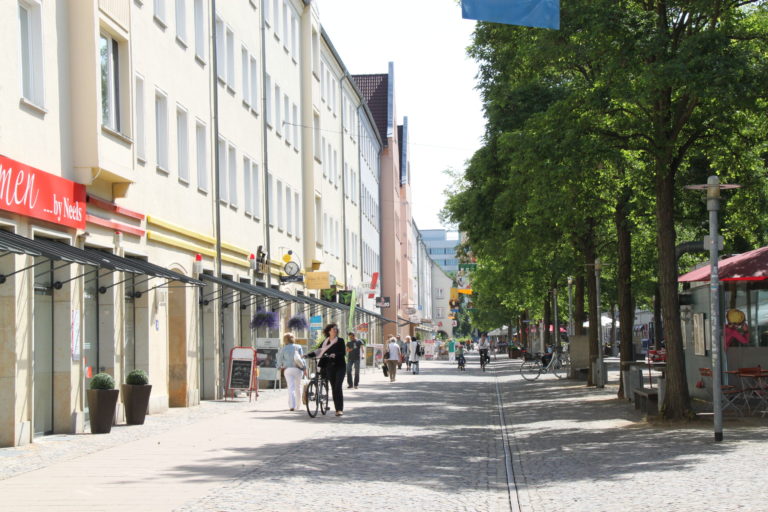 A large number of stores, cafés and bistros in the pedestrian area Turmstraße invite you to shop, to stroll and to stay. Extensive restructuring measures by the Neuwoges (Neubrandenburg housing association) made a contribution to gain more quality of life. Neubrandenburg as a shopping city is popular not only with its inhabitants, but also across its borders in the region.
The Stargarder Straße, Neutorstraße, Wartlausstraße and Treptower Straße count definitely to the various attractions of the centre. The visitors and guests will be welcomed by specialized stores with friendly service and competent advice, craft, trading and gastronomy.
In 1993 twenty traders, gastronomes and other businessmen of the centre established the association "Werbegemeinschaft Neubrandenburger Innenstadt e. V." to continue this tradition in the future, too.
More information about shopping and events in Neubrandenburg you get on the page of the advertising association "Werbegemeinschaft Neubrandenbruger Innenstadt e.V.": www.tore-auf.com
---
C & A Neubrandenburg
Treptower Straße 7
17033 Neubrandenburg
Tel.: 0395 581750
---
Kaufhof Neubrandenburg
Stargarder Straße 19
17033 Neubrandenburg
Tel.: 0395 56810
www.galeria-kaufhof.de
---
Marktplatzcenter NeubrandenburgKrämerstraße 1a
17033 Neubrandenburg
Tel.: 0395 5706113
www.marktplatz-center.de
---
H & M Hennes & Mauritz AB & Co.KG
Filiale Neubrandenburg
Marktplatz 1
17033 Neubrandenburg
Tel.: 0395 56307253
Touristinfo Neubrandenburg
Opening times
Monday to Friday: 10:00 – 19:00
Saturday: 10:00 – 16:00
Please note our special opening times during city-centre events